For many years I have done drawings, usually when I'm on retreat, that help me tune into my intuitive knowing.  We get plenty of practice in our culture tuning into the analytical aspects of ourselves, but rarely are we taught how to listen to other ways of knowing, and that concerns me because there is much our analytical minds cannot do.  They cannot tell us what we really value, what our life's purpose really is, what our soul really desires.  The analytical mind can dissect information, but it can never provide us with true wisdom.
In this drawing practice, which is a spiritual practice more than an artistic one, I begin by drawing a circle on a piece of paper, then I lay out all of my colored pencils before me.  When they are all spread out in front of me I scan them, letting my eye rest on each one in turn, and as I do I listen inwardly for an intuitive prompting, a nudge that says yes, this one.  Or no, not that one.  I pull out each of the yes pencils as I am being guided and then put the other pencils away.
Then I begin.  I look at the colors and listen for which of them wants to be picked up first, then I pick the pencil up, put its point to the paper and begin to draw, continually listening inwardly, sensing which direction the line wants to go and when it wants to stop.  Then I set it down, and look again at the colors, asking which one wants to go next.  As the image continues to evolve I listen for where the growing edge is as well, and that is where I focus next.  The image itself isn't intended to depict anything, but the practice is a potent way for me of accessing my deeper Self and listening to my heart.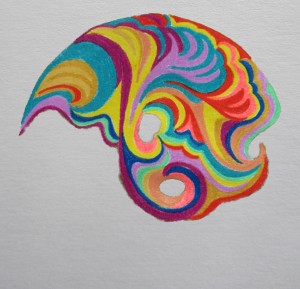 When I was on retreat last month I was contemplating what it means to live a life like that, guided by the heart, to be a heartist.  It can be frightening for the ego and the analytical mind to let go and let the heart lead, because when the heart leads, you never know where it is all headed.  The path, just as the drawing's pattern, isn't nicely laid out ahead of time.  It is only revealed as you follow the inner guidance, one step at a time.
There is an interesting thing that has happened to me in the last few years.  Somewhere along the line I started to experience what I call Heart Glow.  I have a sensation in my heart chakra that I can only describe as a sensation of glowing that comes in response to certain ideas that float into my mind or certain encounters I have.  My heart has become a divining rod for me telling me when I'm on track with something that is true to my core, true to my deeper Self.  And as I move forward with my life path I am listening for that Heart Glow to tell me what the next step is, trusting my heart's wisdom even though I cannot see the full picture.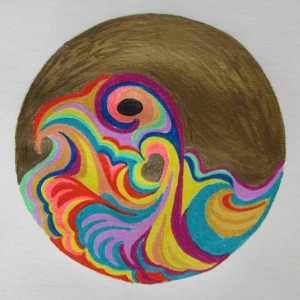 I find that when I let go of the ego anxieties and the analytical mind's priorities and listen to my heart, I am led.  All that is asked of me is that I listen and trust, and take the next step.
Listen and trust, and take the next step.
Listen and trust, and take the next step.
And suddenly, unexpectedly, when I step back and look at things from a different angle, something quite surprising is revealed that had been emerging all along, even though I didn't consciously realize it.
The startling teaching that my retreat drawing gave me this time was just how trustworthy my heart is as a guide and that, in fact, it can create far more beauty than I ever could have knowingly planned.