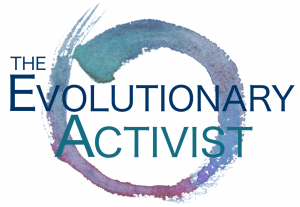 www.patriciapearce.com/podcast
When we stand in the truth of Love we can expect pushback because we are threatening egoic norms and beliefs.
[The book I refer to in this episode is No One in I Land.]
---
---
Transcript
Hello, evolutionaries and welcome to this week's podcast episode. In this podcast, I talk about the egoic illusion of separateness and how that illusion has given rise to a whole world that seems to reflect this idea of separateness, of enemies, of judgment and so on and so forth; and that that illusion is out of touch with the reality of love and the reality of oneness in which we all abide, even when we are unaware of it. And what I would like to talk with you today is what I call offensive love. And I'd like to just explain that a little bit of what I mean by that. In this egoic world, which is so based in judgment and condemnation and attack and all of that, love is offensive, because love offends the egoic norms of division and condemnation and so forth. So when we stand in the reality of love, and when we embody love in the world, we are doing something that is offensive to the Egoic Mind that wants to separate, that wants to exile others from belonging, and so forth. We are actually doing something that is very offensive to the egoic world when we abide in the reality of love and stand for that reality in the midst of the world's divisions.
I had an interesting experience. Many years ago, I was working on a little book that is called No One an I Land. It's a little parable and it's very winsome and very playful, and it really came through me. The subtitle is A Parable of Awakening. And this little book talks about how people fell into this dream of seeing themselves as separate and everyone striving to be special and so forth. And this story has a lot of plays on words and things like that; it has a lot of humor in it and playfulness and a very direct message about love and being in non-judgment. Because love, of course, is non-judgment and oneness and interconnectedness. So I was working on this book and I had the manuscript ready and towards the end of the book this story talks about people beginning to wake up out of this dream of 'I Land', this dream of isolation and aloneness. So people begin to wake up out of this dream and recognize themselves as one with the All. And now they're in this world where this dream is still playing out—this dream of I Land, this dream of separation, this dream of isolation and feeling unworthy, and all of those attributes of the egoic dream. So these people are waking up, but they're still in this world that's embodying this dream of I Land, and so they begin to do very, very playful things in the dream to help other people wake up; to, like, snap out of it. And so these people, who call themselves No One People, begin playing in the dream and doing these unexpected things that are helping jar people out of their hypnosis, out of this egoic dream.
The reason I want to share all that all this with you is that I submitted the manuscript to one of the people who was helping edit it. And this person wanted to take out a line in the story that actually is, if anything, the pivotal line in the story, which says something along the lines of, 'The dreamers in I Land wanted to hold the authorities responsible for the catastrophes and all that things were going wrong in I Land'. But the No One People (those people who had awakened from the dream) could see that those authorities were simply playing out their part in the same dream. And so they didn't look at this scenario through this lens of judgment.
Anyway, this editor that I was working with wanted to take that line out of the story; she crossed it out. And for me, if you cross out that line, you are negating, really, the whole message of the story, which is that we are all in this dream playing out this story that is illusory, and that as long as we stay in the stance of judgment and condemnation of anyone, we are perpetuating that dream in our own minds. And so that line of non-judgment towards the authorities was offensive. It feels offensive to the ego to hold others in compassion, that is offensive. It goes against the moral code of the ego, which is all about condemnation and ostracizing people and so forth.
So when we stand in this reality of love, and when we embody it and when we bring it forth, we are doing an offensive act within the ego stream. This is also an interesting play on words: offensive love, because it's also to be on the offense, which is to be proactive, to embody love proactively, and non-judgment proactively. Which is to say to not wait for someone else to, you know, fix themselves before we accept them in compassion. So it's being on the offense in that way as well; to really be proactive about dropping judgment, about standing in the truth of love that does not and cannot exile anyone. Because love is the All, love is interconnectedness. Love is inter-beingness. And nothing can exist outside of love. It's simply not possible.
So as evolutionary activists, we really are standing in a different kind of reality, not the illusory pseudo-reality of the ego, but in the reality of love, which is the inherent truth of our interconnectedness, and the inherent truth of our divinity, our worth, our goodness and our identity as expressions of that reality of love.
I wanted to share that with you just to encourage you, more than anything, to understand that when we stand in the reality of love, yes, we can expect pushback, because we are doing something that is offensive to the Egoic Mind, and to just accept that that is part of this role that we're playing. It's just part of it. And that when people respond out of that sense of outrage or moral indignation, which is an egoic thing, you know—self righteousness—to understand that, when that's coming our way, we do not condemning those who are putting that out into the world or directing it at us. All we're seeing when that happens is that we're seeing the Egoic Mind at work. That's all it is. We are seeing the Egoic Mind perpetuating its illusion. And what we are doing is transcending, we're stepping outside of the norms of that illusion, so that we can embody and demonstrate a different reality, the reality of love.
And until next week, I bid you peace.
SUMMARY KEYWORDS
egoic, dream, love, judgment, egoic mind, offensive, reality, illusion, condemnation, embody, illusory, ego, podcast, separateness, stand, playing, working, interconnectedness, talk, perpetuating
Soundtrack music "Changing" by Borrtex, licensed under Creative Commons (BY-NC 4.0)