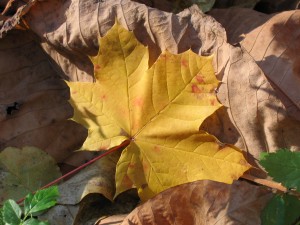 I love the season of autumn, the brilliance of the sunlight, the golden trees that blaze so gloriously before the onset of winter, the graceful dance of leaves riding the wind. Every year this season reminds me to trust in nature's cycles, not to hold onto what is ready to pass away but to let the necessary shedding occur so that emptiness can hold the space for something new to emerge.
One brilliant autumn day a few years ago I sat alongside a creek in the woods and watched as yellow, red and brown leaves dropped silently from the branches overhead, landing on the water to be carried away by the current. The peaceful image has stayed with me ever since, revealing to me the beauty of death, the grace of letting go, the inherent trust at the heart of nature's recurring cycles.
This autumn has had a poignancy of its own for me as this month we scattered my mother's ashes in the mountains of Colorado. She died last November and I was with her during much of her final year of life. Watching the way she approached death was very much like witnessing the turning of the trees in fall. After almost nine decades on this planet she was no longer attached to the things of this life, nor was she afraid to die. As the months drew on, she began to shine with an inner radiance in spite of her discomfort and exhaustion. She exuded the joy, gratitude and lightness of spirit that only someone who has learned to trust and let go can.
While driving out to Colorado this fall, seeing the changing leaves as I traveled through the hills of Pennsylvania and the expanses of the Midwest, I reflected on the the time that I spent with her and I realized that I want to be my mother's daughter in this regard: I want to be like the fall trees that transform themselves into light as the cycle of life reaches its culmination.
May you, too, be inspired and consoled by this season that reminds us of something we so often forget, that death is every bit as natural and essential to the cycle of life as new birth. Realizing and accepting this truth opens the gateway to beauty, freedom and joy.