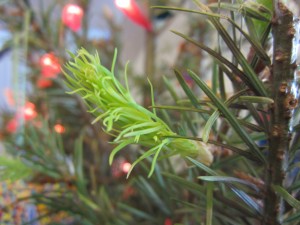 We've had construction going on at our house since October and our first floor living space was in disarray until well into December. Consequently, I wasn't able to get our holiday decorations up until a few days before Christmas, and I decided to leave them up for awhile to make up for lost time.
This past weekend, though, it seemed like enough was enough and I was just getting ready to take everything down when I noticed something that astounded me. The Christmas tree was sprouting new growth. All over.
"How is this possible?!" I thought. The tree, although it had continued to drink water, had also begun to drop its needles. How could something that was dying also be putting forth new shoots?
Needless to say, although the other decorations came down, I didn't have the heart to toss this brave, resilient tree out into the bleak midwinter.Continue Reading