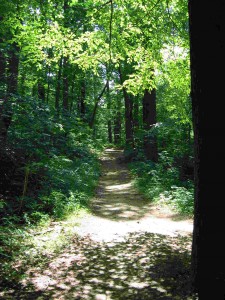 In one of my morning meditation times this week, an image from a famous poem by Robert Frost came to my mind.
Two roads diverged in a yellow wood,
And sorry I could not travel both
And be one traveler, long I stood
And looked down one as far as I could
To where it bent in the undergrowth
I knew why this image of diverging paths had come to me at this particular time, since I am facing some important decisions, so I took the image as an invitation to do as Frost did, to take time to pause and consider.
I imagined myself sitting down in the woods at a place where two paths part to see what I could see, knowing as Frost did that by choosing one I was saying no to the other, leaving it untraveled, a life I might have lived and chose not to.
Choices can be difficult because we know we will forever wonder about the paths we chose not to take, all those roads that we have left unexplored. We must accept this particular kind of loss so inherent to life — the loss of what might have been. Frost alludes to this in the title of his poem. Rather than calling it "The Road Taken," he titled it, "The Road Not Taken."
Choices can also be difficult because when we face diverging paths we can only see so far. We may be able to see what might lie ahead in the near future, but beyond that the path bends out of sight, into the undergrowth of uncertainty. This means we must always make our choices in the absence of full knowledge. We must make them guided by a deeper wisdom instead, one that we can only access within ourselves. Rather than merely deciding, we must discern which way to go.
In my meditation, letting any sense of urgency recede, I invited that deeper wisdom to come forth and show me what these diverging paths were representing.
As I gazed at them in my mind's eye, what I saw was that one of the paths, the one slightly more traveled, was the path I would choose if I allowed fear to govern my choices. It was the safer path in so far as it was the way of conformity, the way of blending in with cultural norms and abiding by other people's expectations.
The other path, the one less traveled, followed a different course. It followed the contours of the Self (not to be confused with self, or ego) rather than the contours of external expectations, and because it wasn't beholden to accepted norms it was the path that could also lead to controversy.
Controversy literally means turning against. Ideas are controversial when they turn against established norms, challenging viewpoints or worldviews that have become accepted as reality.
Taking time in meditation to listen to my inner wisdom helped me see the choices before me more clearly and understand the dynamics at play in my ambivalence. I could recognize how fear had been whispering to me to take the "safer" road.
While some people thrive on controversy, I am not one of them. Nonetheless I know, and can sense that I have always known, which path I will choose, and that, for me, will make all the difference.