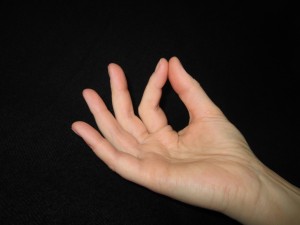 This post is the third in a series based on the prayer practice I introduced in The Problem with New Year's Resolutions. Last week I wrote about the first part of the practice, accepting and blessing what is. This week I will explore in more detail the second part: blessing and welcoming what could be.
My approach to this is based in the scientific and spiritual understanding that at the heart of reality is a field of infinite possibilities and that, because all things are interconnected, we cannot help but influence this field.
Sensing the Limits of Our Senses
In our daily lives we operate mostly based on what our five senses perceive. We tend to believe, out of laziness or convention, that reality only consists of that which we can see, hear, taste, touch or smell. But our senses are only able to detect a tiny fraction of reality. Take ultraviolet light. Until we had the technological equipment to measure it, it was invisible to humans. For us it simply didn't exist. For some other creatures though, like bumblebees, it was quite real because they could see it. Or consider the high-frequency sound waves that are beyond the range of the human ear to detect. Just because they may not exist within our boundaries of perception doesn't mean they won't drive a dog crazy.
I think of the field of possibilities in a similar way. It is a domain where things actually do exist as pure potential but which, because they haven't taken on physical form, lie outside the parameters of our normal sensory apparatus.
So when we touch in with the possibility of what could be we aren't trying to grasp for anything or force anything into existence which isn't already there. We are simply inviting what exists as potential to move into its physical manifestation.
When I have worked with the prayer practice, what I often experience when I touch in with what could be is that it feels like an actual entity, and I sense from it gratitude that I have seen it and that I believe in it. It is as though this non-manifested potential is absorbing the energy of my blessing like a seed receiving the water of recognition and welcome that it needs to sprout.
Manifestation As an Act of Welcome
All this makes me think of the potential that lies within each of us and how essential it can be sometimes for someone else to see that potential. Just having someone see it and believe in it is sometimes all it takes for us to live into what we are capable of becoming. Conversely, it can be very difficult to bring forth the fullness of our gifts in the presence of those who do not believe in us.
Inviting change through the power of welcome and blessing is vastly different from the dominant culture's way of effecting change which more often than not relies on force, domination and manipulation. That approach is the ego at work. It is yang out of balance.
When we shift from manipulating to manifesting we abide in the the non-dominating power of yin. We no longer strive to be the masters of our reality. Rather we are become co-creators with the field of all possibility.
I've been thinking lately how when a couple is going to have a baby we say, "They're expecting." It's that kind of expectation we bring to manifestation, knowing there is a process of gestation underway that is following its own wisdom and timing. That process cannot be forced, but it can be nurtured with love and all the practical necessities the emerging life requires.
What you will probably find as you practice this non-dual way of prayer, holding the paradox of accepting what is alongside what could be, your capacity to perceive possibilities as actual realities will grow stronger. It will feel as though your sense perceptions are expanding beyond the limits of tactile, physical reality.
I am reminded of a parable Jesus told, that the realm of God (read: field of infinite possibilities) is like someone scattering seed on the ground which day and night grows, even though the sower doesn't know how, producing the stalk, then the head, then the full grain. I think this was Jesus' description of how manifestation works. Within the field of possibilities we sow the seed of things we want to cultivate in our lives, but there is a greater reality, a greater wisdom moving beneath the surface of things. It isn't a process we understand or control. It is one we invite, nurture and receive.