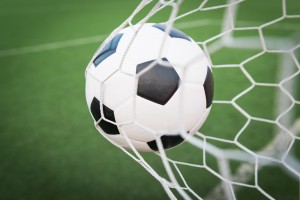 My spouse, Kip, is an avid soccer fan, and for the last several days life in our household has revolved around World Cup soccer games. On Monday night I returned home from a lecture at the library to find Kip elated over the U.S. team's win over Ghana, the "nemesis" that had eliminated the U.S. from the last two World Cups.
John Brooks, an unexpected substitute who came into the game after one of the lead players for the U.S. left with an injury, scored the winning goal with a perfectly executed header.
For those who pay attention to soccer this was a fairly remarkable moment, because John Brooks had never played in any competitive game for the U.S. national team and he was the first substitute player to score for the U.S. in any World Cup game. But what made his winning goal even more interesting, at least to me, is that it was a dream come true, literally.
A few nights before the match Brooks had a dream in which he won the game for the U.S. with a header, very much like the one he carried out in waking life, in the 88th minute of the game. In waking life his goal occurred in the 86th minute. Close enough.
I've been doing dream work for over 20 years, and I am always very cautious about interpreting dreams as prophecies of the future. Most often dreams speak to our present circumstances — wounds that need to be healed or beliefs that need to be dismantled in order for us to become whole people living abundant lives. But every now and then it happens that we have a prescient dream, one that foretells a future event.
John Brooks, it seems, had a prescient dream.
Of course, one could argue that his unconscious mind had prepared him to score in the World Cup game. He rehearsed doing a header in his sleep, and so in the game when the ball came to him near the goal he instinctively carried out the act he had already practiced in his sleep.
But I think there's more to it than that, because prescient dreams can also warn us of events that are not the result of our own personal actions. The death of a loved one. The collapse of the economy. Global catastrophes. Carl Jung had dreams of World War I before it happened.
What do we make of such dreams? How can we explain them?
Within the Western paradigm we can't. That's because our Western worldview inculcates us with certain cherished beliefs: the belief in linear time, in the distinction between mind and matter, in ourselves as individuals, compartmentalized and isolated from any greater reality. Within the predominant paradigm of the Western mind there is no room for John Brooks' dream.
These cherished beliefs are often so ingrained in us that we don't even know we hold them until something comes along to challenge them, a prescient dream perhaps, or a synchronicity when the "outer" world seems to be reflecting and even commenting on the "inner" world.
I could share many such experiences, but here's just one. Years ago I was preparing to take a trip to England and I was deliberating about whether or not to add on a trip to Scotland to visit Iona. I wanted to know more about Celtic Christianity and thought a trip to Iona would be helpful, but I wasn't sure I could justify the expense.
On the day I had to buy my ticket I left my office to walk to a nearby food truck to get some lunch, and there, on a busy street in Philadelphia, stood a man decked out in kilt and full Scottish regalia who began to play the bagpipes.
Needless to say I went to Iona.
When these things happen they can blow our mind, our small mind that is, the ego mind that sees the world through the lens of separateness. When these things happen we can't help but believe the unbelievable, that we are united with a greater reality, that our inner lives are in conversation with our outer surroundings, and that our little lives may not be so little after all.
The video clip of John Brooks' reaction after scoring his goal says it all. In his face I see not only the reaction of someone who has scored a goal in a World Cup game — as if that weren't enough — but also the reaction of someone whose mind has just been blown when it dawns on him that his dream turned out to be his reality.