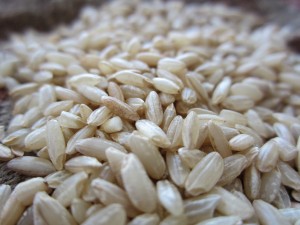 Many years ago, when I was living in the Andes of Ecuador as a Peace Corps Volunteer, one day I was accompanying a Quichua farmer as he went out to  sow barley. When we got to his field high up on a hillside, he loaded the barley seed into a metal canister he had that had a crank on the side with a mechanism that flung the seed out in all directions.  After he'd loaded up the canister, he started walking along the edge of his field, turning the crank as he walked. The seed went everywhere, some of it far beyond the edges of the field, into the weeds and the rocks and the road, and my first thought was, "Oh no! He's wasting seed!" But he didn't seem to care about that.  He just kept walking deliberately, back and forth across his field, letting the barley fly where it would, interested only in letting a good bit of it land in the fertile soil where it would be able to root in and grow.
Watching him work, I was reminded of one of Jesus' teachings. He once told a parable about a sower who went out to sow seed. Some of the seed fell onto the path where it was eaten by birds, some fell on rocky soil, and some on weed-infested soil, none of which, obviously, bore any fruit. But some of the seed fell on fertile soil and produced a bumper crop.
I had always heard the parable interpreted in its traditional — rather judgmental — way, as an analogy for different types of people, some of whom are receptive to divine wisdom and some who aren't. But watching the Quichua farmer sow his seed that day, I came to realize that Jesus was probably making a point about the sower as much as about the soil, encouraging people to live their lives as the sower sows the seed, casting their gifts out into the world with abandon and not being preoccupied with the outcome.
The term non-attachment has found its way into the mainstream, usually within Buddhist contexts although it was at the heart of Jesus' teaching as well, and this parable of his makes me wonder how often we hold back on sharing our gifts because we are overly attached to the results. Oftentimes, if we aren't entirely sure our gifts will be well received or will bear fruit we may not share them at all, and in our attempts to direct and control the outcome of our efforts, we end up withholding the best of ourselves.
It can be discouraging, after all, when you offer something and it comes to naught; it can make you want to hold back the next time around. But Jesus' parable and the lesson of my Quichua friend encourage me to offer what I have anyway, knowing it's not my place to try to dictate the outcome of my efforts or try to control onto what sort of soil they might land.
It isn't always discouragement, though, that gets in the way of us sharing ourselves freely.  Sometimes our withholding comes out of a scarcity mentality.  We can fall into the trap of believing that if we "squander" our gifts in unreceptive environments, we'll somehow deplete our supply.  That isn't possible of course, because, unlike the farmer whose seed is in fact finite, our innate gifts flow from an abundant, infinite Source, so the more we let them flow, the more they flow.
Letting go of results can be tremendously liberating, and over time I've come to see that the only way the Universe can unleash abundance in and through my life is for me to live like the sower, releasing all my attachment to the outcome.  The only thing that's asked of me is that I just sow.