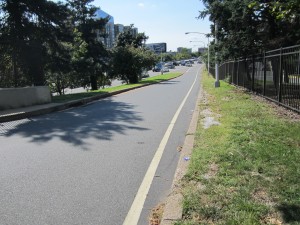 A couple weeks ago Kip and I were headed home after having dinner at some friends' house. As as we were driving along a curvy road that follows the bank of the Schuylkill River, a car ahead of us with Maryland plates was weaving all over the road.
It being Saturday night, we assumed the driver was drunk and kept our distance. When we pulled up alongside him at a red light, the driver honked and motioned to Kip to roll down his window.
"Can I get to 76 from here?" he called out.
It turns out he'd been swerving all over the road because he was lost. He was probably trying to find the route on his smart phone, or his car's GPS, or who knows, maybe reaching for a map in the glove compartment.
"Yes. Follow us."
We weren't headed for I-76, but it wasn't far out of our way, and it's a very tricky ramp to find.
So we led him around the traffic circle in front of the Art Museum, onto the Ben Franklin Parkway for a couple of blocks, then took three more quick turns until we reached the inconspicuous, unmarked ramp onto the freeway he needed.
As Kip and I pulled off to head home our Maryland friend zoomed past us to merge onto the highway, and we honked and waved our goodbyes.
We were elated. It felt so good to help a visitor to our city find his way. It was definitely worth the detour.
One lesson of the experience hardly needs mentioning: it feels good to help other people. For me, though, it was more specific than that. It made me realize I don't just like helping people. I like helping people who are lost.
I've been known to stop on many occasions to ask bewildered tourists standing on city sidewalks studying their maps if I can help them find the Liberty Bell, or Ben Franklin's grave, or the Rodin museum, or whatever they might be looking for. Maybe I have a special place in my heart for people who are trying to find their way around because I've visited many unfamiliar places in my life. I know how confusing and overwhelming it can be.
But it's not just helping people navigate city streets that I find enjoyable. I like helping people who are feeling inwardly lost. I've been exploring the inner terrain for most of my life and have come to know a thing or two about the lay of the land.
Just like that confusing route onto 76, I've had to navigate plenty of bewildering twists and turns along my spiritual journey—sometimes in the dark of night—until I finally discovered a hidden entrance to the "free" way.
I think, though, the most beautiful thing I took away from our encounter with the man from Maryland was that it reminded me that we all have some area of expertise in which we feel completely at home but that would be totally confusing and overwhelming to someone else. I wonder what that would be for you. What terrain has life taught you so well that you know it like the back of your hand? It doesn't matter if it's something that seems simple to you, because chances are it isn't so simple to somebody else.
Whatever it is, I hope you'll share it, not only because you'll make someone else's life easier, but because you'll probably feel just as elated as we did when that driver from Maryland safely merged onto the highway, headed for home.