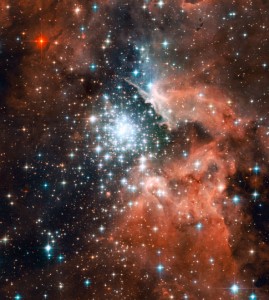 Holocaust survivor Viktor Frankl wrote in his book Man's Search for Meaning about his observation, from his time in a Nazi concentration camp, that those people who could find meaning in their suffering were more likely to survive than those who could not. He came to the conclusion that meaning is an essential human need.
One of the things that makes that so remarkable is how much power we have to create meaning. We may not always be able to control our circumstances, but how we interpret those circumstances and relate to them is by and large up to us.
When the ancients looked up at the nighttime sky, they connected the stars into pictures, constellations, that conveyed entire mythologies. Each of us in our own lives experiences moments of hardship, sorrow, blessing and happiness, which are like stars scattered across the sky of our lives. It is our choice how we will connect them, and, in so doing, what personal mythologies we will create.
We all know that the same statistics can be used to support opposing arguments depending on how they are interpreted, and in similar fashion we can use the experiences of our lives to create different narratives which may come to define how we see ourselves. Experiences of violence or terrible tragedy, for example, can be connected together into a story of victimization or of survival, depending on our interpretation. If we are able to take those difficult experiences and fashion them into a story of resiliency, personal growth, or empowerment, we will come to believe that even — and perhaps especially — our times of struggle have meaning, which in turn gives us the fortitude we need to face new challenges.
It is by choosing how we will fashion meaning from our circumstances that we become the authors of our own life stories, which, if you think about it, is an extraordinary power indeed.