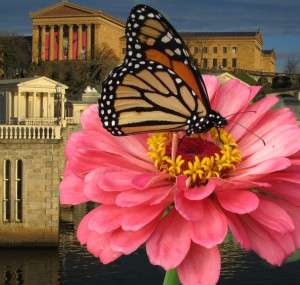 I went into the ministry and now live in Philadelphia because Miss Leach, my third grade teacher, loved the French Horn. The story has a lot of twists and turns, and it's too long for me to tell you many details right now, but in general it went like this: I moved to Philadelphia 15 years ago because I took a call to serve as pastor of a church here. I went into the ministry because of some of the experiences I had as a Peace Corps Volunteer in Ecuador. I went into the Peace Corps because of the ways my horizons were expanded while I was an exchange student in West Germany. I was an exchange student in West Germany because of the influence of some of my fellow French Horn players in college. And I played French Horn because of an off-handed comment made one day by Miss Leach.
I loved Miss Leach. She was one of those teachers a child is very lucky to have. She taught us well. In her class we made colored pencil drawings of grasshoppers, labeling all the parts of their anatomy, in our spiral notebooks; we drew cross-sections of the Earth, learning the names of all its layers; we learned about fulcrums and levers, resistance and strength.
But I loved her not because of what she taught us, but how. I still remember the day she started teaching us how to write in cursive. She told all the left-handed kids to cover their ears for a moment while she explained to the right-handed kids how to position our paper and how to hold our pencils. Then she had the right-handed kids cover our ears while she instructed the left-handed kids how they needed to do it. She taught us about much more than handwriting that day; she demonstrated to us that she understood and valued our differences.
Most of all I remember a day when we were playing Password. The classroom was divided into two teams. One person from each team would come up front and Miss Leach would show them the word they were to help their teams guess by giving one word clues. When it was my turn, I went up and she showed me and the girl from the other team our word, which was carefully written out in black magic marker lettering on a strip of tag board. Then, taking turns, the other girl and I began giving our clues.
I don't remember whether the word we were given was "headache" or "hedge". All I know is that I misread it, thinking it was the other, and, as you can imagine, began giving my team bizarre clues. It wasn't long before the other team guessed the correct word, whereupon all the kids in the class started mocking and ridiculing me for the absurd clues I'd been giving.  Shame descended upon me.
That's when Miss Leach, bless her soul, came to my rescue. She admonished my peers, telling them that I may have understood something they didn't. She was insinuating that perhaps my clues were so sophisticated that nobody else was comprehending them, which instantly quieted everybody in the class. Because of her brilliant intervention I was able to return to my desk with my head held high and my delicate 8 year-old ego still intact.
Maybe you can understand, then, why I was so devoted to her and why my life changed one day when a girl in the class asked Miss Leach what her favorite instrument was and she said the French Horn. Since Miss Leach was so wonderful, I concluded that the French Horn (which I'd never heard of) must also be wonderful, and so that spring, when we had the chance to sign up to learn to play instruments for the band, I chose the French Horn.
There's a lot of talk these days about the butterfly effect, which describes the uncanny way whole systems can be altered as a consequence of one small event. A butterfly flapping its wings in China, for instance, can cause a storm on the Eastern Seaboard of the U.S. I wonder, though, if we ever really think about and marvel at the wondrous influence we have on one another, how, for instance, one off-handed comment made by a third grade teacher we love and admire can alter the trajectory of a lifetime.
I googled Miss Leach yesterday and found out she died January 5, 2000 at the age of 84. The short obituary in the newspaper said she had no survivors, but it was mistaken. She survives in the lives of all the students she touched, including my own. She is alive in the words I write and the things I teach, because all of it is an outgrowth of the influence she had on my life.
I know the effect Miss Leach had on me, though she never did, just as you may not know about the lives you have altered. But if you think back, you just might be able to remember a moment when someone you loved and admired did or said something that caused an ever-so-slight alteration in your life's path that, in the end, changed everything.