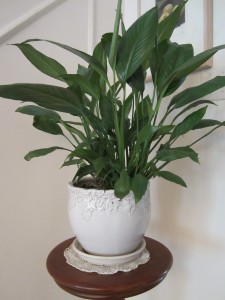 I knew something was wrong with my beloved peace lily when its leaves began to droop. It had been thriving in its little corner of the living room for years, getting just the right amount of reflected light coming down the stairwell from the skylight in the hallway upstairs.
The plant meant a lot to me and I didn't want to lose it: it had been a gift given to me under poignant circumstances by someone dear to me (though perhaps that's a story for another day). I had always appreciated how it graced the space with its presence, being the first thing I saw whenever I walked in the front door.
So I did my best to nurse it back to health. I set it out on our enclosed porch where it could get a bit more light and could be in the company of several other plants — I believe community is important when it comes to healing — and I took care not to water it too much or too little.
But my efforts were to no avail. It continued to languish until it became obvious it was never going to bounce back.
Reluctantly, I accepted that that it was time to let it go, so I set it outside our back door until I could get around to taking it over to the community garden and add it to the compost pile.
Delayed Intentions
Let me just say that I'm not always prompt about following through on the things I intend to do. Week after week the wilted peace lily sat outside our kitchen door suffering through the summer heat and thunderstorms.
Then one day when I came up the outdoor steps to our kitchen it seemed to me the plant was looking perkier. Was it just wishful thinking on my part, or was a dose of nature just what it had needed?
I didn't know, so I didn't meddle. I left the plant where it was, at the mercy of the heat and the rain and the wind.
Sure enough, as the months went by the plant revived. It started putting forth new leaves. Shiny, vibrant leaves. Lots of them, and by the end of summer it was fuller and healthier than it had ever been. Then, before the first frost, I brought it back in and now it happily sits once more on its stand in the living room corner.
Lessons Learned
There are lots of lessons I could take from this experience. I could let it remind me that there are times when procrastination isn't necessarily a bad thing, because sometimes it provides just the time something needed to come into its own.
Or I could let the saga reveal to me that it's true what they say: what doesn't kill us does make us stronger.
I could also let the plant's remarkable comeback remind me of the healing power of nature, of how much we need to leave behind our sheltered existence every now and then and expose ourselves to the elemental forces of the wind, the sun, the rain.
But the lesson that is speaking to me most deeply at this time in my life is that the peace lily showed me that it was precisely when I gave up trying to save it that I gave it what it needed.
Sometimes I'm tempted to think if I try hard enough I can bring things around. I can come to the rescue and pull troublesome situations back from the brink of disaster, or find a way forward in circumstances that are clearly hopeless.
But I know that such saving efforts are often futile; more often than not they are simply the ego acting out its useless anxiety and need for control. The fact of the matter is that there are forces at play in my life that are simply not under my control, and sometimes the most prudent thing to do is to stop my striving, let go, and get out of the way.
Now, from its corner in our living room, my peace lily teaches me on a daily basis of the paradoxical truth that there are times when I need to let go of the things I cherish most. Sometimes it's the only way they can ever truly thrive.