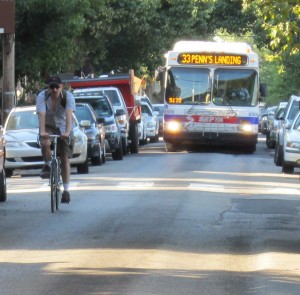 The other afternoon I boarded the bus into Center City and was delighted to see the World's Most Enlightened Bus Driver behind the wheel.
OK, she may not be the one and only. All I know is whenever I get on her bus I feel instantly cared for. I love this woman whose name I don't even know but whose sparkling hazel eyes radiate a joy one rarely encounters. She welcomes people onto her bus with a smile and warm greeting, then carries out her fierce determination to get us to our destinations in one piece and on time.
It seems for her we aren't just passengers, we're her passengers. We aren't just a random collection of strangers traveling as isolated individuals. We're on her bus together.
I don't usually think of bus driving as a particularly high calling as far as jobs go, but riding into town that afternoon I realized how my whole demeanor had shifted as soon as I got on her bus. "She's spreading blessings and light throughout the city — all day long," I thought. Hundreds of people step off her bus lighter and more cheerful, a bit more able to deal with whatever they are facing in their lives.
Who knows? Maybe it's the likes of her that keep us all from imploding under the daily stresses of life.
She's an angel. A bestower of blessings. A light-bearer. Well, maybe I'm going too far. But why not? This woman is an inspiration to me, and a reminder that what we do in this life may not be nearly as important as how we do it–how we treat people along the way.
She motivates me to pass the gift along, bless the people that cross my path, look them in the eye and share a warm, heartfelt smile or greeting. Because the fact is, whether we remember it or not, we're all on this journey of life together.