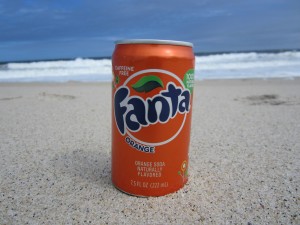 I had a dream once in which I was attending a conference where a couple of speakers had connections with Fanta. One had established a Fanta distribution center as a form of ministry. The other was the chemist who developed Fanta and understood its molecular structure.
Sitting on a table next to the podium where they were speaking was a bottle of Fanta. Its label read: Renewing Energy.
It felt like an important dream, so I spent some time working on it. Fanta implied the word "fantasy," which led me to investigate the etymology of that word. It comes from a Greek word meaning: to cause to appear, make visible, expose to view, show.
Fantasy, often disparaged as being "out of touch with reality," is actually the imaginative impulse out of which all that we create—all that we make visible—arises.
I believe, as human beings, our imagination is perhaps our greatest super power. Some would say it is the divine image in us. It is what has enabled us vulnerable weaklings without tooth or claw to survive on this earth.
Human history is really the story of the human imagination. How it has built empires, created vaccines, invented language, and calculus, composed symphonies, penned poems. Human history is the story of our collective fantasy—our power to cause to appear that which has never before existed.
Many who have left their mark on human civilization and culture have extolled the power of the imagination:
Imagination is everything. It is the preview of life's coming attractions. ~ Albert Einstein

Imagination rules the world. ~Napoleon Bonaparte

It is through imagination that we transcend understanding and travel into the world of possibilities. ~Danielle Pierre

Every great advance in science has issued from a new audacity of imagination.  ~John Dewey

Live out of your imagination, not your history. ~Stephen Covey
This super power will shape our future, and if there's anything the future needs of us now it's that we engage our imaginations in positive, life-enhancing fantasy. It's the only way we can break out of the gravity of an old story that is leading us to destruction.
Fantasy is not to be taken lightly, and the collective leap of imagination into the new world we must create together begins with each of us. Just as we go to the gym to build up our physical strength, we need to exercise the muscles of our—perhaps flabby—imagination if we hope to meet the global challenges before us.
It isn't enough to just sit around expecting someone else to step in and save the day. We are that someone. As Madeleine L'Engle said, "It might be a good idea if, like the White Queen, we practiced believing six impossible things every morning before breakfast, for we are called on to believe what to many people is impossible."
My Fanta dream helped me see that part of my calling is to help people discover and unleash the power of their imaginations. It showed me that fantasy is Renewing Energy—the capacity to make new. If that isn't a super power, I don't know what is.