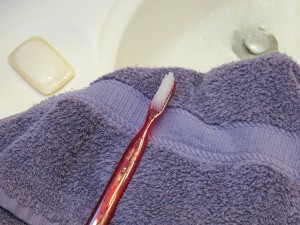 Several years ago as I was getting ready for bed a thought dropped into my mind: "This is the most perfect moment of my life."
The idea was absurd.
I mean, I've had plenty of moments that might be in the running for the most perfect of my life. The time I got to watch a meteor shower streaking hundreds of trails of light across the night sky. The first time I went snorkeling in the Carribbean and saw the spectacular world of coral and tropical fish. The times camping out in the Rockies under the canopy of the Milky Way. The bright September day of horseback riding in the Tetons.
Not to mention all the times I've laughed with a friend over a cup of coffee, or witnessed a rainbow paint itself across stormy clouds, or wept while I listened to the last movement of Beethoven's Ninth Symphony.
I could go on with my litany of perfect moments, but I think you get the idea. Brushing my teeth would never have made the list.
But I suspect that was precisely the point. I wasn't standing on a mountain peak looking out over a stunning vista. I wasn't sitting in a concert hall listening to a breathtaking orchestral work. I wasn't celebrating around a dinner table with good friends.
I was doing something completely mundane that I do every single day of my life.
The unbidden realization made me aware of how much I evaluate my experiences according to some scale in my mind about what constitutes perfection. Anything that doesn't exhibit some extraordinary quality is not worthy of notice, and certainly not reverence.
But there it was, this spontaneous teaching that has stayed with me ever since: This is the most perfect moment of my life.
Since then, from time to time I repeat the phrase to myself. It almost always shifts my awareness. It opens my eyes to the absolutely amazing miracle of any moment, no matter how mundane it may seem.
You just might try this teaching yourself and see what happens. While doing some mundane act say to yourself, "This is the most perfect moment of my life." Repeat it until its truth finally begins to break through.