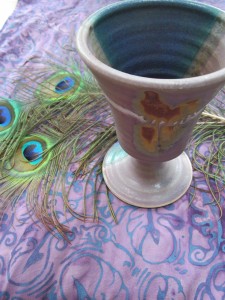 When we moved into our house ten years ago, it needed a lot of work. In fact, the home inspector said in his report that, while the house didn't have any huge structural problems, it was remarkable in the number of things that needed attention: crumbling masonry, rotting window sills, open junction boxes, worn roofing, a garage door that wouldn't close. . .
Of course, he made no mention of all the aesthetic shortcomings of the space: ripped linoleum in the kitchen, porch windows covered over with plywood, a dining room painted goldenrod with lavender trim, a bedroom painted royal blue with silver trim. I could go on, but I won't bore you with the details.
We'd been looking for a house for months, right when the housing market was at its peak and competition among buyers was fierce. We were running out of time. We needed a place to live and we needed it now. So we bought a fixer-upper—which had not been our plan—and we've been working on it ever since.
We worked on the basement first, because we knew if we didn't it would never get done. We parged and waterproofing the walls, stripped the paint from the overhead joists and the concrete floor, installed new lighting, rebuilt the staircase, put in a new window and door, painted the walls, the floor, the ceiling. All the while, as the months dragged on and on, stacks and stacks of boxes—the stuff that was destined for the basement—sat in the living room and dining room having no place else to go.
Beauty Matters
I'm a person for whom my living space matters. The space I inhabit doesn't have to be fancy, but it does have to be welcoming. When I was in the Peace Corps I lived in a cinderblock house with a tin roof and no running water, and I did simple things to make it feel like a home. On the walls I taped up photographs of nature scenes from an old calendar, I tacked up reed mats on the exposed roof joists to create a ceiling, I built simple tables and stools from unfinished lumber, and sewed tablecloths to brighten them up. It was nothing elegant, but it was home.
So I was having a very hard time those first few years in our house. I dreaded coming home at the end of the day and being assaulted by the ugliness and clutter.
After more than a year of this I was finally at my wit's end.  Renting another space to live in while we finished the work would be too expensive, but the renovations were taking far longer than we had ever anticipated.
I recognized that, since I could do so little to change the situation, I had to do something to make peace with it. So one day I gathered up some scarves, feathers, and ornamental objects that were beautiful to me, and I went through the house setting up altars on the stacks of boxes. I went through with my prayer bowl and a smudge stick and blessed it all, lingering over every box, every crack in the plaster, every unsightly patch of paint, holding it all in love.
It was miraculous. While the altars brought a touch of beauty, which is important in and of itself, it was the act of blessing that really changed things.  By blessing all the things I'd been resenting I moved into a relationship of acceptance with them. I stopped seeing the boxes and paint jobs as enemies to be vanquished and more as companions in a challenging time of transition. This was perhaps the most important renovation of all—making new my perception of the situation.
It really brought home to me (no pun intended) what a radical and transformational act blessing is. When we bless something just as it is, including all of its "flaws," we are enacting a different sort of reality, one that doesn't depend on "perfection" or hold out for the future to make everything right. Blessing brings fulfillment into the here and now.
Just because we bless something doesn't mean we don't do what we can to improve the situation, any more than Kip and I ceased our home renovations after the altars were set up. But when we operate out of the energy of blessing, our efforts arise from a field of love and possibility rather than judgment and disdain.
Having learned of its power, since then every now and then I practice blessing in other situations, like when I'm riding the bus or walking down a city street. I don't say my blessings out loud—that would probably alarm most people—but I say them silently to myself. I'll look at someone as they board the bus or pass me on the street, and say in my heart, "Be blessed." I don't know if it has any effect on them in the cosmic scheme of things, though it might. What I do know is that it changes me. It makes me see the person as a person—not just as one more anonymous stranger, but as a fellow traveler through life.