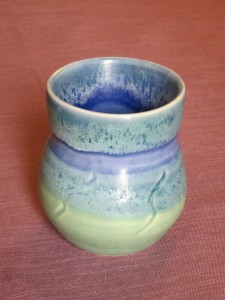 I've been taking pottery classes this past year, and a few weeks ago, as I was finishing up a mug, I told my teacher I wasn't going to put a handle on it.
"Are you sure?"
"I'm sure."
I didn't explain my rationale to him, mostly because I thought it might seem too weird.
You see, I've been drinking my morning coffee from a handleless mug for over a decade now, ever since one of my winter retreats in New Mexico.
One evening I was sitting in my room reading a book of poetry by Rumi when, for no apparent reason, the books on the shelf over the fireplace shifted and knocked the mug I'd brought with me onto the floor. It was a sturdy mug and survived the fall, or so I thought. I went over to pick it up and when I lifted it by the handle, the handle broke off.
It felt like one of those waking dream moments when outer circumstances mirror inner realities, because on that retreat, which came at an especially tumultuous time in my life, I'd been doing some challenging inner work that had to do with letting go. I was being asked to release some things that were precious to me, things that felt core to my identity and essential to what I perceived as my reason for being. Letting go of them felt like a death.
It seemed like my mug, tumbling from the shelf and releasing its handle, was showing me it was okay to let go of my own handle on things. The spiritual life entails letting go of control, and yes, it might feel like a free-fall sometimes, and yes, the letting go might hurt, but in the end there is a precious freedom to be had.
I spent the rest of that retreat drinking from the handleless mug, and when my retreat was over I brought it back home with me and continued to use it for my morning cup of coffee, which I always have while doing my journaling and dreamwork. These past eleven years it has been a constant reminder of what I learned on that retreat, a lesson that I seem to have to keep relearning from time to time when fear visits and I find myself wanting to clutch tightly and take the reins of my life into my own hands.
Aside from having my coffee and doing my journaling and dreamwork, during my morning time I read a passage from the Tao te Ching before meditating. Here is an excerpt that offers the same teaching as my handleless mug:
Can you deal with the most vital matters
by letting events take their course?
Can you step back from your own mind
and thus understand all things?
Giving birth and nourishing,
having without possessing,
acting with no expectations,
leading and not trying to control:
this is the supreme virtue.
~from the Tao te Ching, translated by Stephen Mitchell
Now that I'm taking pottery I decided to retire my old mug for a new one, one that was uniquely me, an expression of my own creativity but still without a handle. I'm enjoying this new mug, and I'm even learning to accept its imperfections, something the old one, machine made, didn't have.
I realize in this moment as I'm explaining all of this to you that it would be a helpful shift in perspective if I stop thinking of it as a handleless mug and start thinking of it as a handle-free mug, because I know that when I let go of my fearful grasp on life I feel liberated. I open to an exhilarating trust and the freedom that comes with it.
Maybe there's an aspect of your life in which you need to let go of control. If so, you might consider what the underlying fear is that keeps you holding on. Then, just for a moment, suspend any disbelief you may have that the Universe is loving and just let yourself feel what it would be like to let the handle go and open yourself to the expansive freedom that is born of trust.