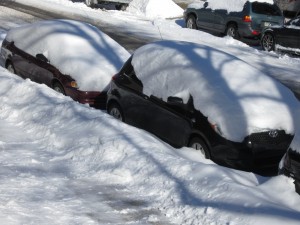 Yesterday we got about a foot of snow in Philadelphia, and most of us are enjoying a snow day today as the city digs itself out.
Throughout the snowstorm yesterday, sitting in the comfort of my home watching the fat flakes accumulating on the sidewalks and cars, I was grateful I didn't have to go anywhere. After dinner, though, I put on my boots and bundled up to take a walk around the block.
The neighborhood was peacefully quiet, the only sound that of a snow shovel scraping the sidewalk in the next block. When I got to the corner I stopped near a street lamp and watched the flakes swirling in its light. Mesmerized by their random movements as they swooped this way and that on the currents of air I settled into that experience of timelessness that is always present but which I miss when I'm immersed in the daily tasks of life.
Along with most everyone else I know I love snow days, and I love that we call them that — snow days. The name plainly acknowledges that snow has claimed the day for itself and nature has wrested out of our industrious hands all of our best laid plans. Snow days are a time of forced respite, and in our culture that often seems to be the only kind of respite we think is valid.
A snow day insists that we quiet ourselves for a while and inhabit our inner spaces, and it invites us to marvel at the magnificence of nature that all of our paved streets and skyscrapers are ultimately powerless to keep at bay. The soft white blanket that descends over the city imposes its own reality that is not beholden to human design.
Most of the time we dwell within an artificial world that has been constructed by humans, a world of freeways, manicured landscapes, indoor plumbing and central heating. It is a world that lulls us into a sense of being separate from nature and even instills in us the odd arrogance that we are her masters.
But we are not nature's masters. We are nature's offspring, and our existence on this planet is by sheer grace.
Watching those snowflakes swirling beneath the streetlight last night — such a deceptively gentle power descending from the heavens, commanding our bustling city to stop — I felt grateful, and strangely nourished being in the presence of such an untamed reality that none of us controls.
May you also be touched with that wildness at the heart of nature, a wildness that your own heart remembers and your soul hungers for.