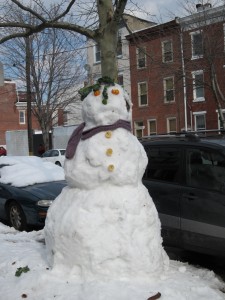 This week we had what will probably be the last trace of snow for the season here in Philadelphia, something a lot of people are happy about. Personally, I have mixed feelings. Sure, the spring is gorgeous, but I also love the winter and have especially enjoyed this one with all of the snow days it brought with it.
One sunny February morning, while I was out shoveling our front sidewalk after one of our big snow storms, I enjoyed watching a Dad and his two young children down the block gleefully piling snow into an enormous mound in front of their house.
Later that day I found out what they had been so excited about when I walked down the block and saw an enormous snow person in front of their house. With kale for hair, clementines for eyes, lemons for buttons, sporting a purple scarf around its neck and a street tree coming out of its head, it drew the admiration of parents and grandparents from all over the neighborhood who brought their little ones by to take a look.
The snow person, of course, is long gone. During the following week, when the weather warmed up, it joined the rest of the melting snow trickling down into the storm sewer, and by now it is surely wending its way across the Atlantic ocean.
I was thinking about that this past Saturday, World Water Day, when the U.N. was highlighting the interconnection between water and energy, focusing on how much of our energy-generating methods depend on water and that many of the people who lack access to clean water also lack access to electricity.
When I thought about the interconnection of water and energy, though, my mind went in a  different direction. I wasn't thinking so much about the energy we extract using water, but about the kind of energy we bring to our interactions with water, like with that snow person for instance.
Water, as we all know, is something our lives depend on, and as a substance that flows freely across the globe it is also something that unites us in profound ways. How we treat water is quite literally how we are treating ourselves, and far too often what we do with and to water is not pretty.
I believe that changing our relationship to water and helping heal the planet's water is a responsibility we all share, and in recent months, to become more mindful of my relationship to water, I have often made it a practice after I fill a glass to pause for a moment to bless the water I am about to drink, or to thank the water as I am taking a shower. I let myself remember how ancient this water is, how it has flowed for eons through oceans, traveled across the sky as clouds, pummeled the earth in thunderstorms, roared over waterfalls, silently drifted to earth as snow.
I know that blessing and thanking the water changes me because it reminds me of my interconnection with all life, but, strange as it may sound, I also believe it affects the water. I believe that whenever we bring the energy of blessing and appreciation to any aspect of this world, that blessing takes hold, spreads out, helps heal the world we live in.
That's why I smile to think that somewhere flowing in the currents of the Atlantic are tiny water molecules that just may remember what it was like to be a snow person with hair of kale, that may recall the delight of small hands enthusiastically shaping them into a new creation, molecules still infused with the laughter of a Dad and his two children who took time to play and ended up spreading joy throughout our neighborhood.
I like to think that the appreciation, delight, playfulness and creativity showered upon that water during its short time as a snow person will be carried, like an invisible message in a microscopic bottle, across the seas to bless others with the possibility of love and the joy of life.