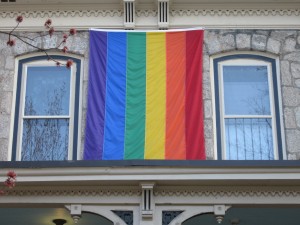 Since the news about the senseless murder of Trayvon Martin has erupted into our collective consciousness, several people of all races and genders have taken to wearing hoodies as a symbolic act of solidarity with young black men who are violently attacked and even killed simply because of their gender and race. Although the donning of hoodies will not make racism go away overnight, and in fact will do little to address the insidious forms systemic racism can take, I see it as a meaningful gesture if it is an authentic expression that people are not willing to stand by and allow minority groups to continue to be the target of ruthless attacks.
Solidarity as a means of nonviolent resistance goes way back. Jesus' table solidarity with the marginalized people in his society — eating with tax collectors and "sinners" (those too poor to participate in their religion's sacrificial requirements) — was one of the things that led to his crucifixion. Gandhi, although a well-educated lawyer who could have lived a life of comfort and privilege, chose instead to practice solidarity with the poor and untouchables of India, living a life of simplicity, wearing a loincloth, and ultimately paying with his life for his stance of solidarity with the Muslim minority in what had become a divided India. Julia Butterfly practiced solidarity when she lived for more than two years 180 feet off the ground in the branches of Luna, a 1500 year old giant redwood tree, to save the redwood forest from being clear cut. And, of course, there is the story about King Christian X and the people of Denmark foiling the Nazis' attempts to round up the Jews in their country by collectively wearing the Star of David.
The latter example, by the way, never happened. Not in a literal sense that is. Neither the Danish Jews nor the Danish King ever wore the Star of David, but even though the story isn't factually true, it is metaphorically true in that most of the Jews in Denmark were spared because the majority of Danes protected them, demonstrating that when enough people practice nonviolent solidarity, oppressive forces become powerless.
The story about King Christian, even though not factual, helped stem anti-Semitic violence in Billings, Montana in 1993 when a white supremacist threw a cinder block through the window of a Jewish family that was displaying a menorah during Chanukah. Margaret McDonald, executive director of the Montana Association of Churches, was inspired by the story of King Christian and launched a movement that resulted in thousands of non-Jewish residents of Billings displaying menorahs in their windows in defense of their Jewish neighbors. For a while the bigotry intensified. White supremacist vandals broke windows and threatened some of the people who had taken up the cause, but in the end the violence and intimidation ceased.
I was in turn inspired by the example of the people of Billings when we had a similar experience in our neighborhood in 1999. In that case it was a gay man who was being singled out. The rainbow flag he had flying outside his home was repeatedly ripped down by college students who lived in the area who were also taunting him with homophobic slurs. When he told me what was going on, I asked our landlady if we could fly a rainbow flag outside our apartment as well. She took the idea to the neighborhood association and soon there were dozens of rainbow flags hanging outside homes in our neighborhood, and the homophobic attacks subsided.
Practicing solidarity is always uncomfortable and sometimes dangerous because we place ourselves alongside those being targeted, coming to understand more deeply the fear, discrimination and hatred that many have to deal with on a daily basis.  That's why a white man walking down the street wearing a hoodie isn't really doing much to challenge racist attitudes, but if he's wearing a hoodie walking alongside a black man wearing a hoodie and they're walking through a gated community, well, that's another story.
All bigots and oppressive systems depend first and foremost on one thing: that people in the majority group who are not being targeted will sit quietly by while others are. The whole system of oppression expects that people will put their own safety first rather than risking their well being to ally themselves with the oppressed. When enough people in the majority group are willing to stand alongside those who are being singled out, however, the cycles of violence grind to a halt.
Solidarity gains its power because at its heart it erodes the fundamental belief that underlies all bigotry and oppression: that separateness is real. In that sense, practicing solidarity is a profoundly spiritual act because it overtly enacts the underlying truth that all life originates from and is an expression of the same Source.
Yet if we believe that the only goal of nonviolent solidarity is to protect the vulnerable we miss what is perhaps the most potent potential outcome: the healing of the bigot. The bigot is someone who is trapped in the illusion of separateness. When faced with acts of solidarity, his worldview is challenged and sometimes even overturned. This is why, if solidarity is to be effective, it must be nonviolent, for to engage in violence against the oppressor is to buy into the same falsehood that he himself is caught in, that of otherness.
The word solidarity itself conveys the essential reality that in the end we cannot be divided along lines of race, gender, class, orientation, or any other category because these divisions are simply the product of our minds' illusion.  Solidarity is based in the knowing that when one of us bleeds, we all bleed.