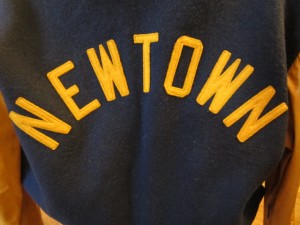 After the shooting at Sandy Hook Elementary, my spouse, Kip, pulled his high school letter jacket out of the closet and hung it on the back of his dining room chair. I think it was his quiet act of solidarity with the community he once lived in, and the school his little sister once attended. His blue and yellow jacket hanging in our dining room was a vivid symbol of how tragedy, even when it seems far away, ripples out to us all.
I cannot begin to fathom the immensity of the anguish the families of the children and educators who were killed in the shooting were experiencing. I cannot imagine the nightmare images that must have continued to haunt those who witnessed the massacre.
For me, the tragedy reawakened the shock and grief I felt in 1999 when a similar nightmare visited the halls and classrooms of Columbine High School, a place where I had taught briefly in the 1980's after returning from the Peace Corps. It was so inconceivable that such an ordinary school where ordinary teenagers showed up every day and did what teenagers do — teased each other, went out for the football team, played in the band, griped about having to learn Spanish verbs conjugations — would become the scene of such senseless carnage, where SWAT teams converged, racing against time to stem the slaughter.
Given these personal connections, I have felt a desire to write about what happened last week, but I have been unable. The truth is, I don't know what to say. I could talk about the horror of these tender, innocent lives being annihilated in such a meaningless, violent way, but there is no need for me to state the obvious. I could talk about the violent nature of our culture and the danger of free access to guns, but others are speaking about that more powerfully than I ever could. I could talk about the roots of fear that give rise to our need for guns, but that would be a book, not a blog. I could talk about our deep longing for safety which we seek in different ways, some people by arming themselves, other people by wanting to do away with arms.
I could talk about how safety is an illusion we cling to in this temporal life. And yet, on the spiritual plane, it is a given. To paraphrase the apostle Paul, there is nothing that can separate us from the Love from which we have arisen and to which we shall return. Nothing. Not even a mentally unstable person wielding an automatic weapon loaded with 30 rounds.
When these tragedies unfold I am always reminded of the phone conversation I had with my mother the night of the Columbine shooting. She was with some friends at a mall about a quarter of a mile from the school when it happened, and she described the sirens of police cars racing to the scene, and the din of helicopters circling overhead. "Now," she said, "they're asking the people of Denver to go to the blood banks."
It was that last sentence that got me. When there is nothing more that can be done, we open our veins.
I don't know what to say about what happened at Newtown or at Columbine. I can't get my mind around the "why" of any of it. All I know is how I wept when I heard the news, how my heart felt so broken for the vibrant lives lost and the shattered lives of those who remain. All I know is that, in the end, what I really want from this life of mine is to find a way to stretch out my own arms and bare my own veins, to somehow offer myself for the healing of a broken, frightened world.