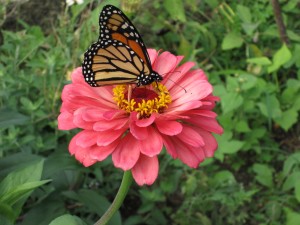 A few nights ago I had a dream that has lingered with me. I didn't remember the whole dream, but in the part that I did remember I was looking through a window at a row of enormous butterfly bushes that were teeming with hundreds of butterflies large and small. Some had blue wings, some orange and black, others yellow and black, and several of them had markings I had never seen before. Somehow in the dream I knew that the cause of this explosive outbreak of butterflies was global warming.
Global warming has certainly been on my mind since, like much of the nation, we've been having a heat wave in Philadelphia. The daffodils and forsythia bloomed more than a month early, the azaleas are already opening and many of the flowering trees, including the magnolias, peaked before winter had even officially ended.
I know I'm not alone in my concern about the situation and what it forebodes about what's to come. Shawn Lawrence Otto wrote in his March 19th Huffington Post article "Cherry Blossoms, Ice Boxes, BMWs and Climate Change" that this heat wave is "one of the most extreme meteorological events in US history." Temperatures across much of the nation have been running 20 to 40 degrees above normal, and at the time when the article was released 2000 U.S. temperature records had already been broken this year.
With extreme weather becoming the new norm it's becoming harder and harder to live in the illusion that climate change isn't upon us. Those of us who have recognized for years that our policies and behaviors must change are probably not surprised by the disturbing way 2012 has begun, but even so it is unsettling to witness the predictions coming true. I suppose many of us are wondering if it's already too late, if our species has dawdled so long, refusing out of greed or laziness or lack of imagination to make the radical changes necessary, that we have already passed Earth's tipping point and life as we have known it is over.
One would think this heat wave, as well as the other climate catastrophes that we've been witnessing in recent years — droughts, tornadoes, hurricanes, fires — would be a wake up call to our leaders, but sadly the political conversation in this election year has, if anything, turned even more toward rhetoric bolstering the status quo of our fossil fuel economy. This fact is sad, though not surprising since, as we are well aware, the political process is fueled by corporate interests. More and more, the government has no stake in leading us toward a viable future, but rather in simply amassing wealth for the wealthy. (A situation, I might add, which could be rectified if The People demand the passage of the Constitutional Amendment that has recently been introduced which states that corporations are not people.)
So if things are so dire, why in the world did my dream depict an explosion of butterflies resulting from global warming?
Over the last twenty years I have worked with my dreams and I have found them to be an extraordinary source of wisdom. They have often, in fact, provided me with information that has changed my life. Dreams, like mythology, use the language of symbol, and if we want to understand what they are trying to say to us we have to step out of our literalistic mindset. This dream that I had was not saying that there will be a literal explosion of butterflies upon the planet due to global warming. (In fact, it is far more likely that butterfly populations will plummet.) But the Butterfly as an archetypal symbol is one of the most potent symbols imaginable for radical transformation.
David Korten, in his book The Great Turning: From Empire to Earth Community, refers to the work of biologist Elisabet Sahtouris who explored the metamorphosis that the monarch caterpillar undergoes in becoming a butterfly. Korten writes:
The caterpillar is a voracious consumer that devotes its life to gorging itself on nature's bounty. When it has had its fill, it fastens itself to a convenient twig and encloses itself in a chrysalis. Once snug inside, it undergoes a crisis as the structures of its cellular tissue begin to dissolve into an organic soup.
Yet guided by some deep inner wisdom, a number of organizer cells begin to rush around gathering other cells to form imaginal buds, initially independent multicellular structures that begin to give form to the organs of a new creature. Correctly perceiving a threat to the old order, but misdiagnosing the source, the caterpillars' still intact immune system attributes the threat to the imaginal buds and attacks them as alien intruders.
The imaginal buds prevail by linking up with one another in a cooperative effort that brings forth a new being of great beauty, wondrous possibilities, and little identifiable resemblance to its progenitor. In its rebirth, the monarch butterfly lives lightly on Earth, serves the regeneration of life as a pollinator, and migrates thousands of miles to experience life's possibilities in ways the earthbound caterpillar could not imagine. [p. 74-75]
I believe this is what the dream was wanting to convey: that global warming is bringing a transformation upon the planet just as radical as that of the caterpillar metamorphosing into a butterfly. The prevailing ego paradigm (Caterpillar) that currently governs the human world and which asserts a distorted understanding of "self-interest" is dissolving, and a new consciousness of oneness, of unity with the Earth, with all of Life (Butterfly) is emerging. It can be no other way, because once eco-systems begin to collapse the illusion that any of us are distinct individuals separate from the rest of the web of life collapses as well.
The way I see it though, once this new consciousness emerges, possibilities will present themselves that we are, at this point, unable to imagine. I believe that, like the caterpillar, we have encoded into us a destiny quite extraordinary that will only come into being when the old self dies.
As extreme as the climate change happening on the planet may be, there is an equally extreme shift happening within the climate of the human mind and the consciousness through which we perceive ourselves and the world. The two climate changes are not distinct from one another. They are intricately intertwined, and one of the most potent ways each of us can contribute to the transformation on Earth is to attend to the transformation within, surrendering our ego attachments, releasing our us/them ways of thinking, and trusting that there are far greater forces at work here than just the human will, forces which are helping to birth a new reality on this planet.