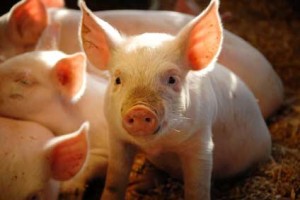 "You're a pig.  Don't take that personally."  He tried to warn her that it wasn't a physical likeness to which he was referring.
I have a friend that has the self-proclaimed gift of recognizing people's "spiritual animal twins."  In relatively short time, he can sense someone's nature and pair it with an animal.  It's rather remarkable.  He calls someone a Meer cat and you think to yourself, "She's totally a Meer cat."  He says to someone else, "You're an alligator," and now you understand why he always has his soul out sunning itself on the sawgrass.
According to my friend, I'm a land turtle.  It's probably the nicest thing anyone's ever said to me.  And, yes, people have said nice things before.  "You're steady."  I'll take it.  I pick up my shell and move on…slowly.
My wife, whose animal likeness shall remain nameless, is a pastor.  Not long ago, she taught a series of classes entitled, "The Animals Will Teach Us."  They talked about animal consciousness, miraculous animal stories (which were really just ordinary animal stories that we had miraculously noticed), and even had live animals joined the class from a wildlife rehabilitation clinic on the last day.  The turnout was incredible, not because it was large, but because of how large it grew.  The first week there were about 20.  The second 30.  By the end of the six-part class, 50 or 60.  That doesn't happen in churches.  Usually the moderate opening showing dwindles as good intentions lose out to good coffee and The New York Times.
If you want a crowded Sunday, do a blessing of the animals.  You will see people who wouldn't dare set foot in a church.  It's not really so we can bless the animals.  They're already blessed.  It's so we can thank them or thank the Creator for them the best way we know how.  We thank them because they teach us so much.  They are, put simply, as they were created to be.  Fully integrated.  If God's name, in my tradition, means "I am," then no human being I've ever met comes as close to that kind of simple holy existence as every animal I've ever met.
You've been made in the image and likeness of God, and I think you know what that means.
Be fully immersed in the delightfully cool mud of your being.
Be a pig.
Rob McClellan is serving as a transitional pastor at Tabernacle Church in Philadelphia.  Originally from the Mid-west, Rob has degrees in communications, philanthropy, rhetoric, and divinity.  He enjoys music, the outdoors, and anything Mary Oliver has written.  He is married, a proud kitty parent and is expecting his first child in October.